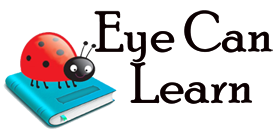 The purpose of Eye Can Learn is to provide parents with fun eye exercises to enhance their children's visual processing skills for better academic performance and improved attention. If you know a child who struggles, the underlying cause may be vision – even if the child has 20/20 eyesight. Children also need to be able to track a line of print, coordinate they eyes for single vision, make fast focusing shifts, and accurately interpret what they see.
The site has several games and activities to help with tracking, perception, visual discrimination, focusing and more. This is a terrific resource for any child having issues with reading and/or visual perception. Be sure to read the Getting Started page before diving into the fun and very helpful activities.
CLICK HERE to go to the website!